The new medal of the President of the French Republic has become official since September 12th, 2008.
It has been shown for the first time in Paris when it was presented to the Pope Benedict XVI during his official visit. This prestige medal, available in limited edition, is made of solid silver and comes in a leather case with a booklet.
This square medal (each side being 90 mm in length) was designed and made with respect for tradition.
The obverse represents the Elysee Palace's frontage. Seen from the outside or from the inside, the building is all dynamic lines and purposely brought out perspectives. This is the symbol of the French Republic and the case where it shines from since 1874.
In the middle axis of the medal, the French flag flies, twice.
On the top right, like a wax seal, the lion-headed lictors' fasces is the mark of the French Republic's coat of arms.
The text « Nicolas Sarkozy Président de la République française » appears at the bottom of the medal while the name of the engraver is inscribed on the bottom left.
The reverse of this composition evokes the French values from a more allusory point of view. The flag is displayed in full frame; free and strong, it flies and radiates. The volumes, the subtle matters and the engraved textures group together in a lively movement.
This living breath, this impulse coexist with the European stars.
The text « Liberté, Egalité, Fraternité République française » is written at the bottom. The engraver's initials « NS » along with the date of the work are inscribed in Roman figures (XI-VI-MMVIII) at the bottom right of the flag.
This piece was achieved by the book and the various stages of the making are detailed here.
In 2008, the Office of the French President entrusted The Arthus-Bertrand company with the striking of the President's medal. For more than two centuries, Arthus-Bertrand has mastered all the requirements and all the secrets for this purpose.
In this way, both by its spirit and its material, the medal is a lasting legacy.
The Sculpture :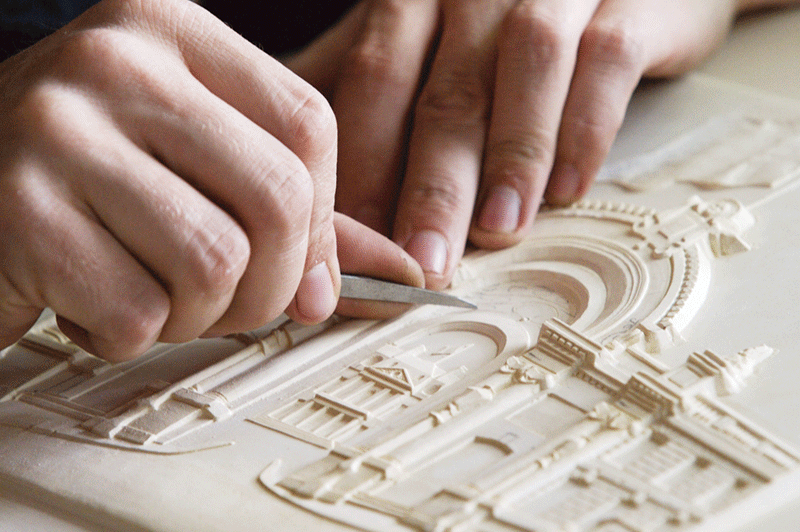 Reproduction of sculptures on dies :
Hand engraving the steel dies :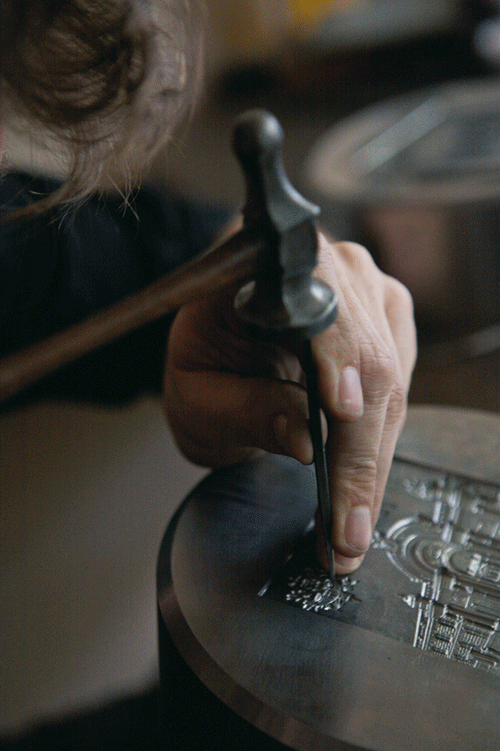 Thanks
Office of the French President, especially Emmanuelle Mignon; the Arthus-Bertrand company, striker of the medal; Michel Moura, MOF, bookbinder; Matthieu Cellard, photographer.
Photographs: Reception of the Pope Benedict XVI, Photo Unit of the Elysee Palace.