1 – MANDATORY SUBJECT:
Based on the drawing of Elisabeth Vigée-Lebrun, « A young girl's face », make with a punch or a die a direct steel carving of this subject for the purpose of striking a medal.
RESEARCH ABOUT THE SUBJECT.
In order to get into the subject, I had to carry out a few approach tasks. I needed to improve my knowledge about the painter and her works, so that I could better understand her style and her sensibility. A few works from the 18th century also helped me to grasp the prevailing trends of that time (clothing, hairstyle…) and the way artists used to sculpt a face, a bust.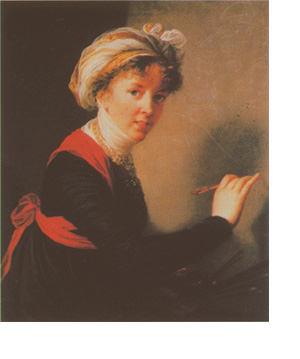 Left: Elisabeth VIGÉE-LEBRUN (1758-1842)
Official painter for the Queen Marie-Antoinette.