On Monday, November 12th, 2012, the first Trophy Marcel Le Servot (creation of the Nicolas Salagnac Workshop, MOF engraver and medal maker in Lyons) was awarded under the high patronage of François Hollande, President of the French Republic. This reception took place at the Ecole Française de gastronomie Ferrandi.
The jury, chaired by Gilles Poyac, Chef of the Présidence du Sénat and Vice President of the Cuisiniers de la République Française, was exclusively made up of some Meilleurs Ouvriers de France (Best Craftsmen in France).
The organisation of the competition went to the technical commitee of the Cuisiniers de la République Française, headed by Lionel Veillet and Cédric Chabaudie.

Working stages for the two trophies:
The design of these trophies was based on old copper saucepans from the « Patrimoine des Cuisines » of the Elysée Palace; they were stamped « FF » with a crown and the date of 1865.
First thing I had to do was to carve the medallion with the effigy of Marcel Le Servot and the Elysée Palace in the background. That plaster sculpture enabled the making of the mould which would next produce two foundry bronze pieces. These pieces were then chiselled –in order to add some detail– and, finally, burnished.
After that, I engraved the texts on the brass plates.
This trophy is built on a cherry wood core. The two wooden pieces are sculpted to make the whole work enjoyable and pleasant to the touch. Then it's put together in each of the saucepans. Finally, I cut the glass plates and assemble them so that the shape I designed is complete.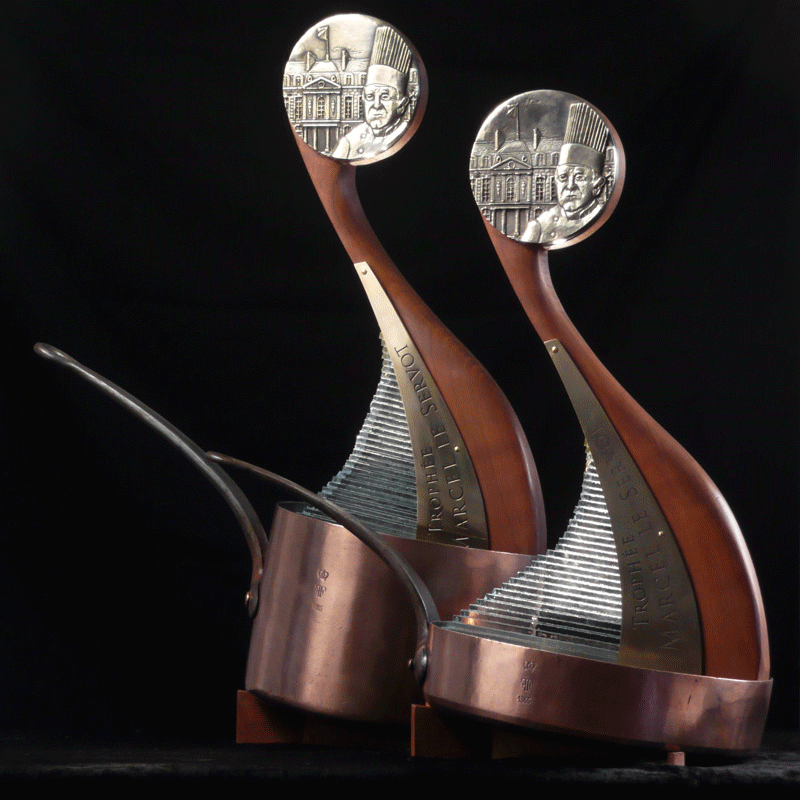 The whole piece conveys the world of alchemy and the shaping of the matter; here the materials are blended, assembled and they end up in smoke.
These two trophies were delivered yesterday in the Cuisines de l'Elysée and were received by Mr Bernard Vaussion, chef of the Kitchens of the Palace. Mr Vaussion has been here for 40 years (he started as a kitchen aid) and he has worked with Marcel Le Servot – what a wonderful tribute! Thank you.
I wish everyone a successful competition!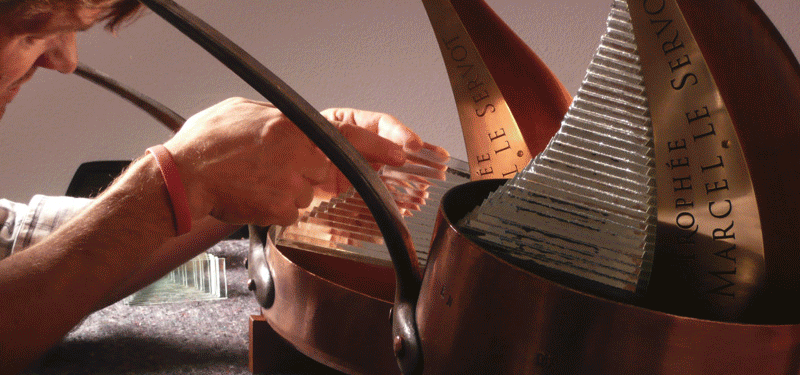 This contest, reserved for young cooks in formation only, will pay tribute to Marcel Le Servot, a great Chef, trainer and kind-hearted man, head of the kitchens of the Elysée Palace from 1968 to 1984.
The Cuisiniers de la République Française's website: link